Emene Enugu Massacre: Ohanaeze Youth Council Vows Never To Tolerate extra-Judicial Killing.
— Prohibition And Killing not Solution
— Proposes Dialogue with IPOB And Other Pro-Biafran groups.
A twit by Enemoh Ikechukwu C as evident in a screenshot below also tagged some local and international organizations informing them of Ohanaeze Youth Council's press release signed by Comrade Nwogha Ndubuisi Andy, Senior Special Assistant On Public Enlightenment to National President Ohaneze Youth Council.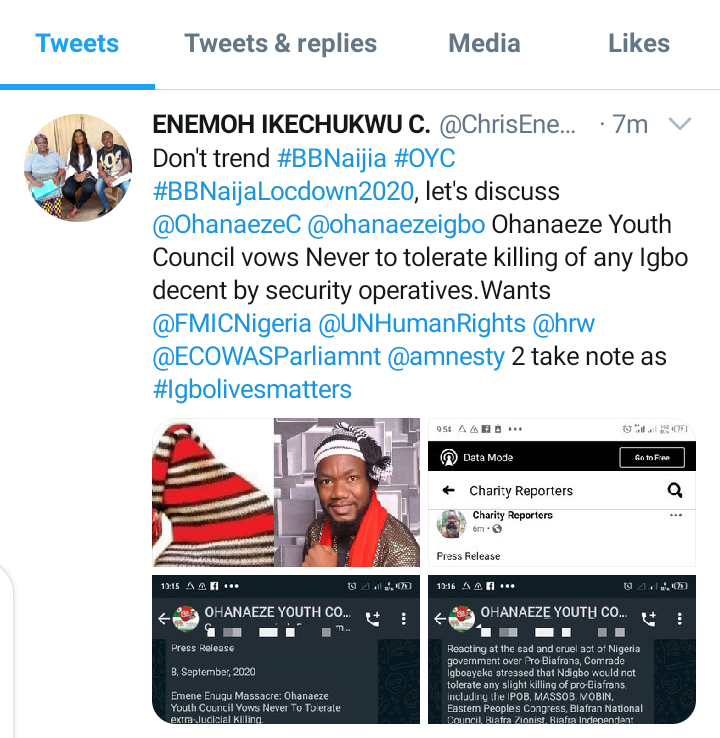 According to the press release which was also made available to our correspondences at Charity Reporters, published on Charity Reporters Facebook Page and various other social media platforms;
The National President of Ohanaeze Youth Council(OYC) Comrade Igboayaka O Igboayaka has issued a warning to the Federal Government of Nigeria led by Mohammadu Buhari against any further killing of Igbo youth by Security agents of Nigeria government, stating that it would be waged by every means necessary.
Comrade Igboayaka stated this while addressing newsmen on Tuesday 8th Sept. 2020 at Emene, Enugu State, the site where Pro-Biafrans were killed, soaked in pool of their own blood on 23rd August
Igboayaka noted that only dialogue with the secessionist groups can bring lasting peace to the country.
The youth apex Socio-Cultural Organization leader noted that in the International best practice, secessionists are not termed terrorists or outlawed but negotiation and compromise has been the best methodology to win the differences.
Reacting at the sad and cruel act of Nigeria government over Pro-Biafrans, Comrade Igboayaka stressed that Ndigbo would not tolerate any slight killing of pro-Biafrans, including the IPOB, MASSOB, MOBIN, Eastern People's Congress, Biafran National Council, Biafra Zionist, Biafra Independent Movement, Lower Niger Congress, among other groups.
Comrade Igboayaka alleged that the steadily attack has proven that there is a plan to wipe away Igbos and Christian in the country through what Nigeria has designed as a clash between security agents and Pro-Biafran groups.
He reiterated that such plan would be resisted by Ndigbo and it will affect the peace, unity and economy of the country.
The Ohaneze Youth Council National president maintained that hence Pro-Biafran groups remained armless that they should be treated as senior citizens.
Comrade Igboayaka lambasted president Buhari over his approach towards Pro-Biafra groups which according to him has demonstrated how ethnic bigot and religious belief has beclouded his sense of security of lives where terrorising groups among Boko Haram, Fulani herdsmen and bandits are given less concern.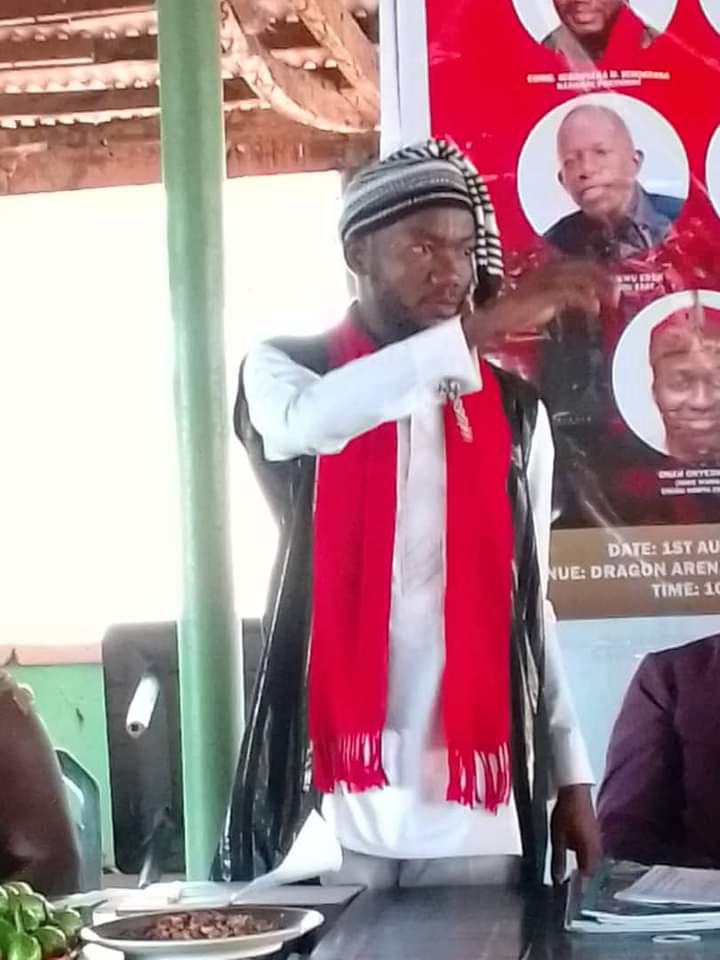 OYC leader addressing News Men
According to the posts made available on various social media platforms, here comes Igboayaka in his words;
"It is quite very brutal and hateful because Ndigbo are involve in pro Biafra activities, Buhari now pays attention to it not minding thousands of lives and billions of dollars worth of Property wasted daily by terrorising Boko Haram, Fulani herdsmen and Bandidts in the North".
Comrade Igboayaka,therefore, call on Nigeria government to apply wisdom and every strategic peaceful means to save Nigeria from the danger, stressing that the disunity in Nigeria has increased to 80% since 2015 that Buhari took over as the country's president.
Comrade Igboayaka also alleged that Buhari's slow approach over Pro-Biafra matter has resulted in killing over five hundred Igbo youths and injured not less than five hundred and fifty persons according to non governmental organization, Inter Society report.
"The killing of Igbo youths at Emene has broken the Carmel's back, and revealed the agenda of Nigeria government against Ndigbo".
He issued a note of advise to president Buhari to stop actions that will lead Pro-Biafrans into picking up arms, stressing that it would not serve the interest of Nigeria, maintaining that Somalia have not recovered from arm crisis the country suffered.
He, however, vowed that if the killing of August 23 at Emene, Enugu State, and other killings of Igbo youths are treated with levity Nigeria would regret the consequence.
Below are screen shots of OYC's press release taken from different social media platforms;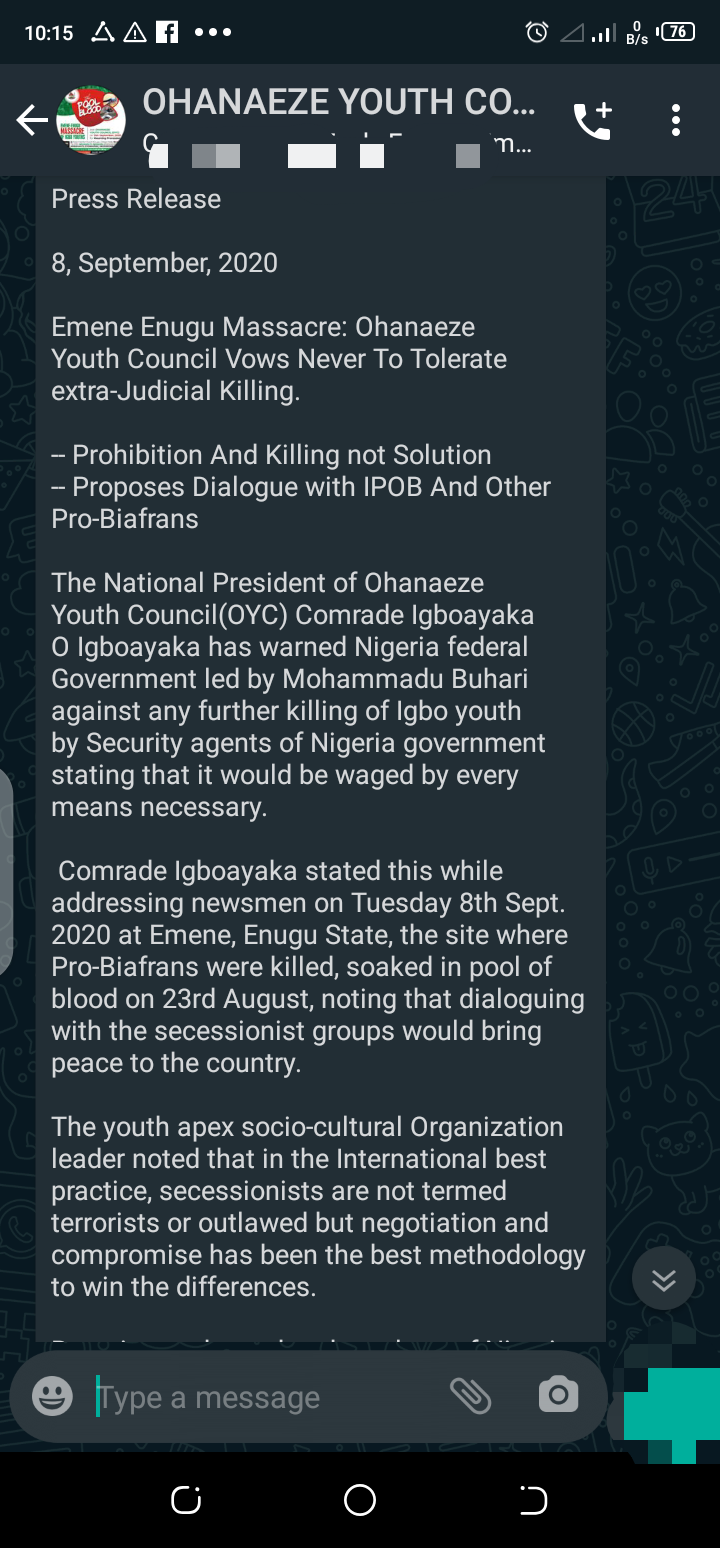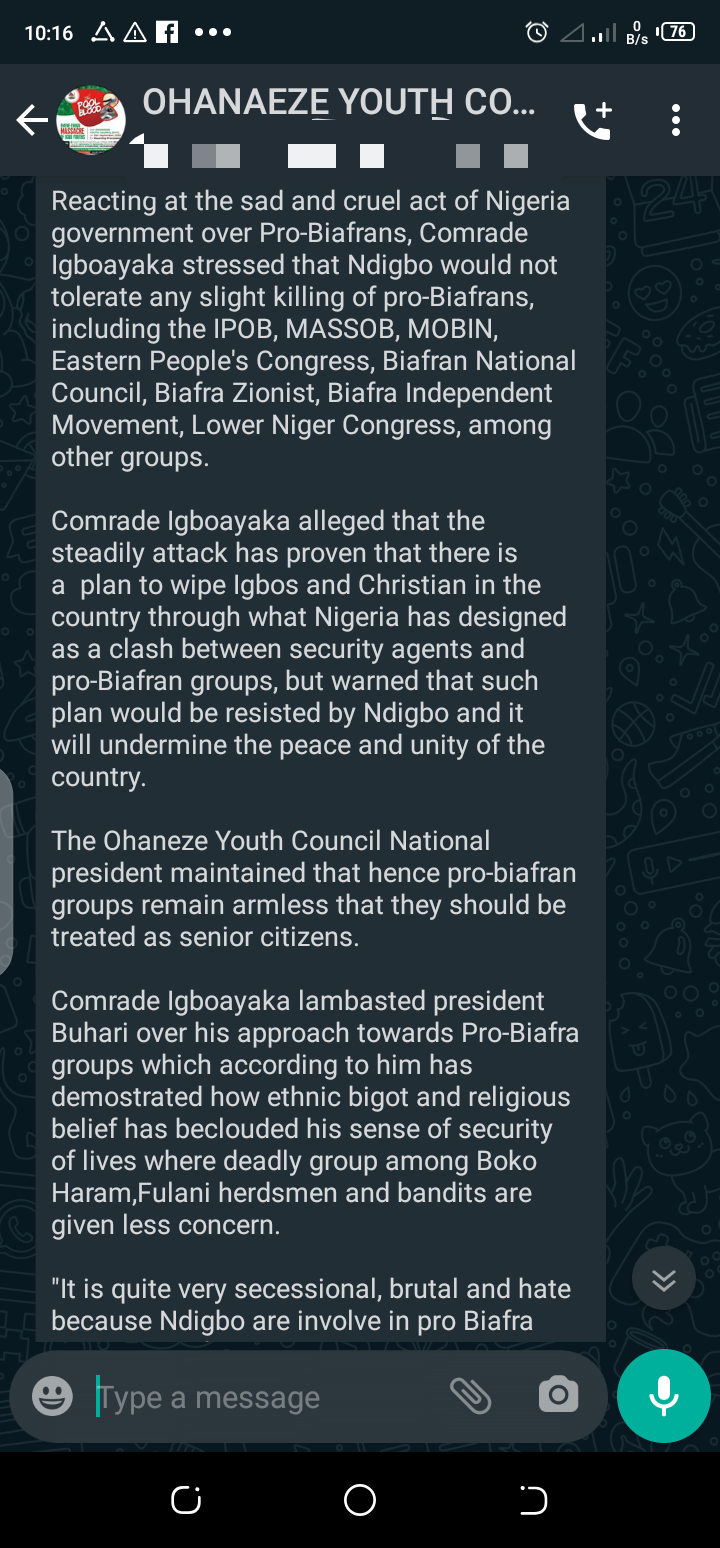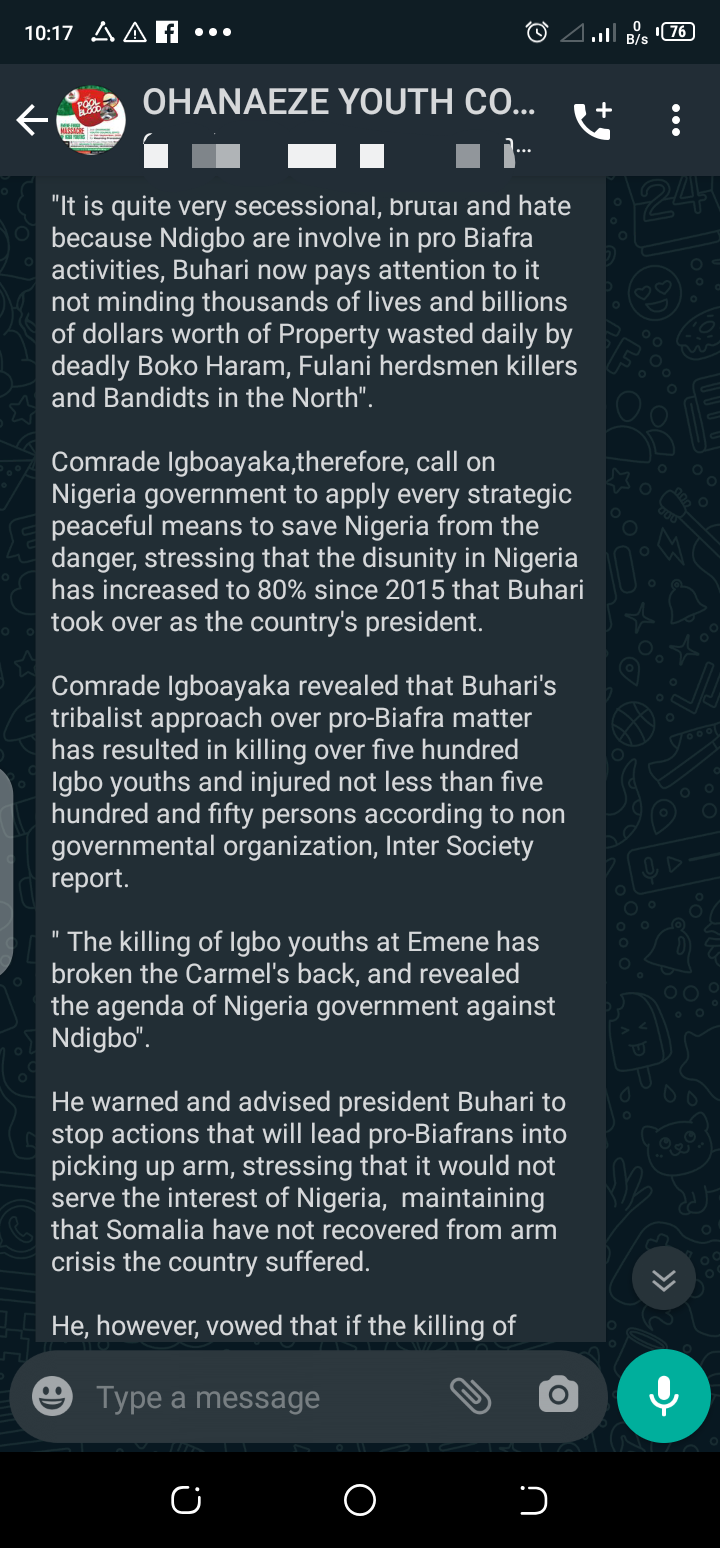 Extracts from WhatsApp posts.
Below are also extracts from Charity Reporter's Facebook page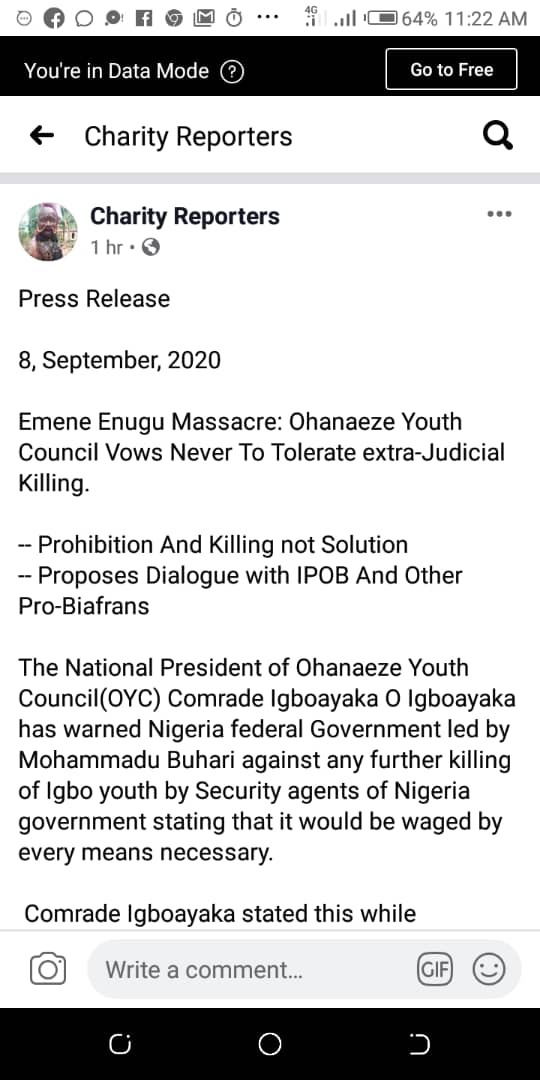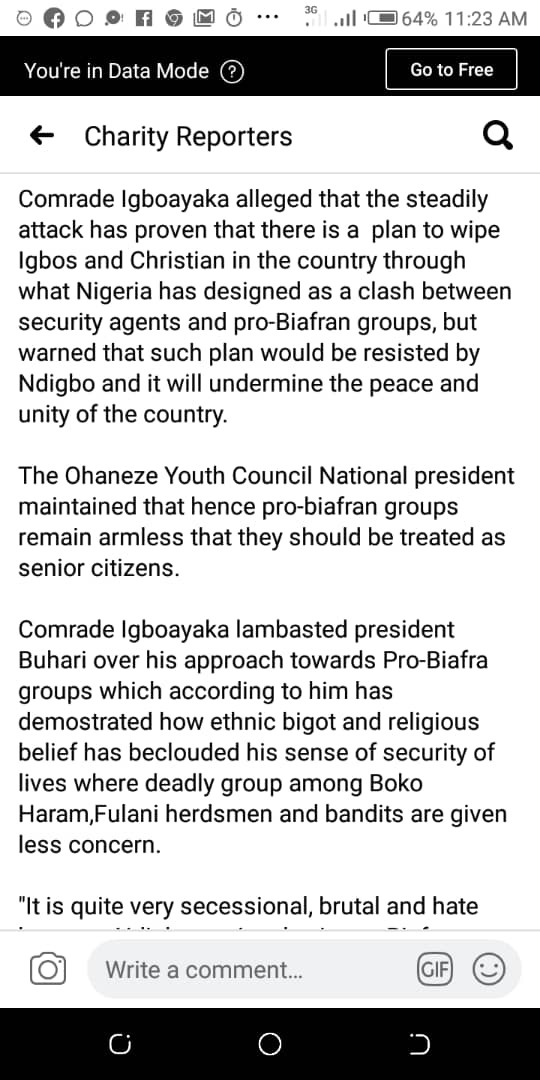 Below presents a post on twitter.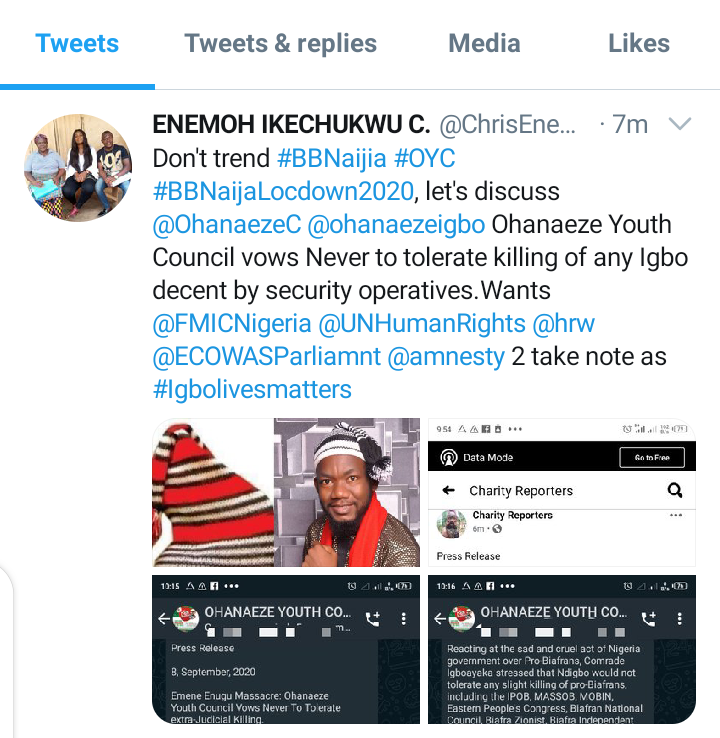 Kindly follow us for more news updates.
If you liked this article, then please join our WhatsApp Group for More tutorials. You can also find us on Twitter and Facebook.
Disclaimer: Contents provided and/or opinions expressed here do not reflect the opinions of The Charity Reporters or any employee thereof.