~ By Ikechukwu Chris Enemoh
The leadership of Enugu West Youth Development Forum, ably led by Comrade Onyebuchi Mbah paid a courtesy visit to the Honourable Commissioner for Youth and sports, Enugu State Honorable Manfred Tony Nzekwe yesterday.
They greeted the commissioner and congratulated him on his recent appointment and swearing in as the new commissioner for youth and sports by the governor of Enugu state, His Excellency Dr. Ifeanyi Ugwuanyi and pledged to partner with his office and ministry to bring forth development, peace and unity among the teeming youth of the State.
"we are confident you would lead the youth to the desirable atmosphere of development and growth".
"Haven served in various leadership capacity as a youth, you are the best qualified leader to head the ministry for Youth and sports at this time Enugu Youth need reorientation and reorganization".
The youth delegates shared their proposal in brief.
According to Comrade Onyebuchi Mba; "we have for the entire youths of Enugu State, which includes but not limited to;
Annual Youth Sports/Cultural Exhibition Festival 2020.
Enugu Youth Agro tech Investment Summit 2020
Provisions of ICT resource Center, 2021-2030".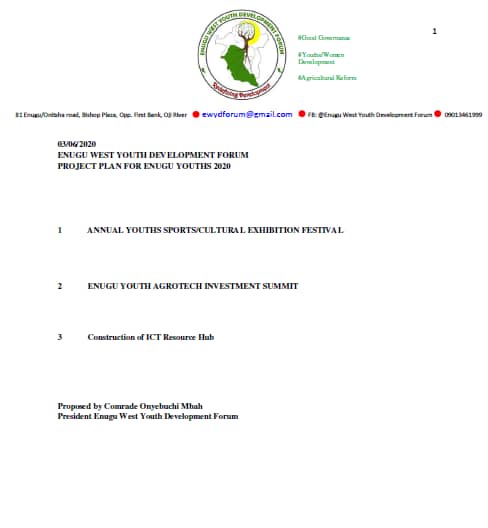 The commissioner who received them with joy, was full of excitement, he encouraged them to be development and goal oriented driven. He assured them his commitment to work with the youth for growth and development of their skills.
The Honorable commissioner pledged to support the youth in any capacity and work with them to actualize all desired goals.
Other delegates at the visit includes;
Comr. Agueze Chukwujekwe
Comr. Nnaemeka Ugah O.
Comr. Onah Joseph Onyemaechi (National President NACESS)
Comr. Enemoh Ikechukwu Chris (NACESS National Welfare Director, P.R.O/Media Director Enugu Progressive Forum.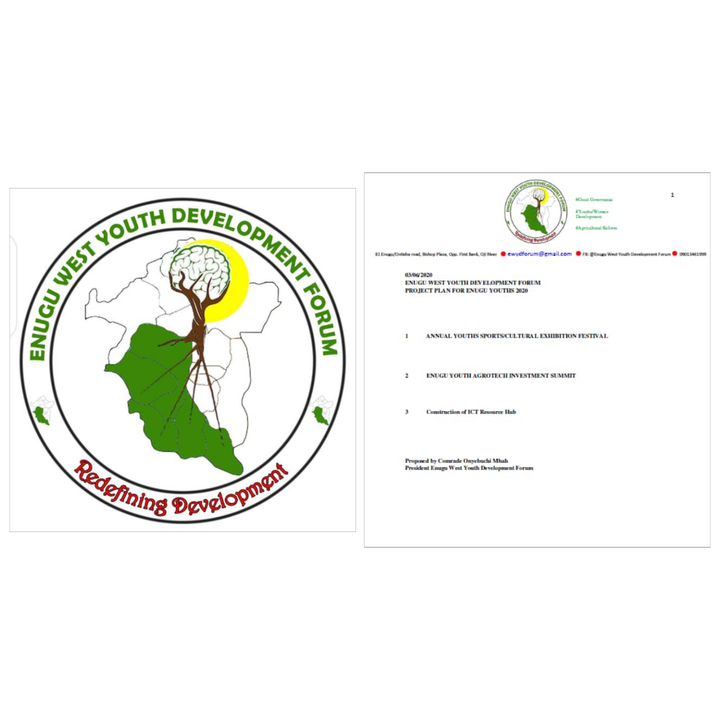 Enugu West Youth Development Forum (EWYDF) is aimed at youth development and growth through skill acquisition, talent hunt, agro ventures, ICT development and many more, this forum targets to actualize the dream of every youth in Enugu state and to ensure proper representation of the teeming youth in partnership with the Ministry for youth and sports as enshrined in its constitution.
The Commissioner for youth and support who in his young age has achieved so much is believed to be the best for such position, the vibrant looking commissioner has been appointed to serve as the ministry head by the Ifranyi Ugwuanyi led administration.
Manfred is the former Executive Chairman of Oji River Local Government Council of the state.
"Manfred was also a one time Director of Enugu State Tourism Board and Special Personal Assistant (SPA) to Governor Ifeanyi Ugwuanyi on Culture and Tourism.
If you liked this article, then please join our WhatsApp Group for More tutorials. You can also find us on Twitter and Facebook.
Disclaimer: Contents provided and/or opinions expressed here do not reflect the opinions of The Charity Reporters or any employee thereof.